Son Set Beach SSB-112SC Silent Speaker Chamber - The Silent Cab!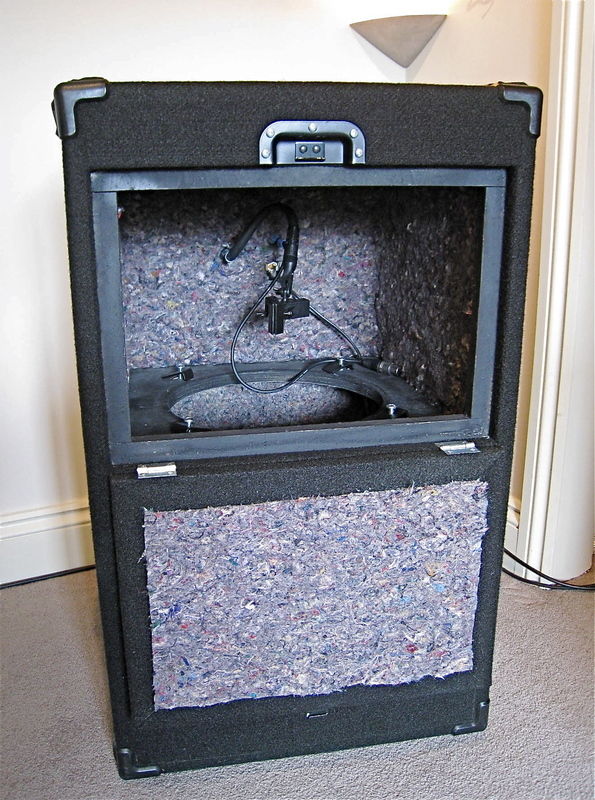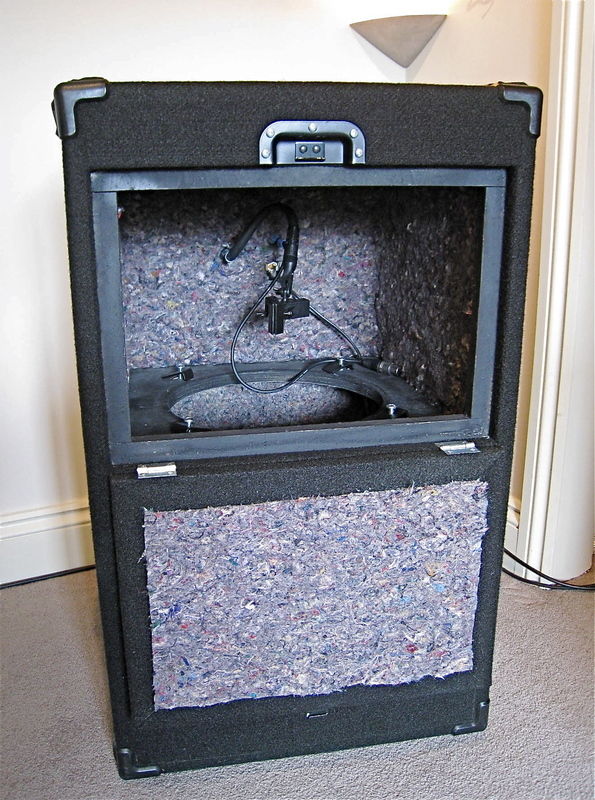 Son Set Beach SSB-112SC Silent Speaker Chamber - The Silent Cab!
SSB-112SC Silent Speaker Chamber
THIS CAB IS UN-LOAED (No Speaker)
All our Un-Loaded Speaker cabs come PRE- Wired to install your speakers. Plus we include all mounting bolts. No Charge - Free !
To Have a Speaker Installed - SELECT from EMINENCE or JENSEN during Checkout
A Versatile Speaker Chamber for 12" Speakers
Eliminates Audio Bleed from your Stage or Recording Environment
The SSB-112 Silent Speaker Chamber is the answer for those trying to achieve a full bodied electric guitar sound without disturbing the neighbors or for use on-stage to reduce stage volume.
Features include:
an adjustable built-in microphone stand

XLR Microphone Output from Microphone

1/4" Speaker Amplifier input jack on the exterior
Ideal for live recording and live situations where sound leakage is a problem.
Handmade of 3/4" Baltic Birch plywood with heavy duty molded corners, fully insulated and wrapped in durable black carpet. (Also see optional Tolex Colors)
This is SSB-112 (Unloaded), Single Mic Mount
- See Options Below
Speaker Design: Silent (internal)

speaker enclosure (no speaker)

Power Rating: NA

Construction: 3/4" Baltic Birch plywood

Weight: 40 lbs (20.41 kg)

Size: 30 x 18 x 18" (762 x 457.2 x 457.2mm)

Color: Black Carpet style

MADE IN THE USA
When PA systems became more efficient, it was possible to amplify music with a lot less power on the guitar amp side. However, recording studio owners desired lower volume amps, which resulted in the design of the master volume. The logical progression of the master volume lead to attenuators, and later power scaling, and then full circle right back to low-wattage amps. Many guitarists have continued the love affair with big, loud amps, yet are having a hard time finding places that will let us wind up our beloved rigs to record them in all their glory, especially at home! And now that many studios reside in homes or areas that require sensitivity to volume, what are we to do?